3.1.7. Harvey, A new Letter, 1593
3.1.7. Gabriel Harvey, A New Letter of Notable Contents[1], [Oct.] 1593
A New Letter of Notable Contents
With a Strange Sonnet, Entitled
Gorgon,
Or, The Wonderful Year.
London
Printed by John Wolfe
1593
In 1593 the two embittered rivals, Gabriel Harvey (1567-1601) and Thomas Nashe (1550-1630) both found themselves trying to win over the support and the sympathies of the poet and patron of the arts, the Earl of Oxford, each in his own unique way. Nashe was the first to start on the path to Oxford's favours with his boisterous, reckless manner, sometimes he would be witty and funny, sometimes sarcastic, often familiar and almost always kicking over the traces. Harvey, on the other hand took a different tactic. Ten years earlier, he had ruffled the master's feathers with a mocking poem and under no circumstances did he wish to make the same mistake again. Harvey warned of Nashe's surreptitious mendicancy and his superficial flattery, at the same time singing the praises of the "singular" author, (the Earl of Oxford). Oxford's nom de plume 'Shake-speare' had feminine connotations, it was taken from the Goddess Pallas Athena, otherwise known as Minerva; she was the divine protector of truth and wisdom, warding off the forces of evil by shaking a spear. With reference to the origin of the Earl's pseudonym and as a safeguard of the necessary secrecy, Harvey referred to Oxford as: "the excellent Gentlewoman", or his "Championesse." Harvey's praises of "the excellent Gentlewoman" may well be strange and exaggerated, however, they are nonetheless, a comprehensive appraisal of this most outstanding poet and dramatist, from the pen of a contemporary; furthermore, a man who knew him personally, a man who both adulated and envied him at the same time. Harvey's code name for the secretive author, William Shake-speare was perhaps absurd, even childish, however, on the other hand, it was both simple and effective. Harvey could communicate directly with Shake-speare through pamphlets, to which lots of people had access, without anybody knowing what it was all about. - The Earl of Oxford, alias SHAKE-SPEARE responds by giving Harvey a poetic black eye in Loves labors lost, when he parodies him in the role of "Don Adriano de Armado"- alongside the youthful, audacious Thom Nashe (=Moth), his page.
In spite of the coded name ("excellent Gentlewoman"), the members of Oxford's close group of friends and literary associates knew perfectly well who's favours Harvey was attempting to court with all this exaggerated adulation. (In spite of the fact that Thomas Nashe later feigned ignorance, claiming that he didn't know who the "excellent Gentlewoman" was supposed to be.) - To following generations, the words of the pedantic rhetorician remained unfathomable, even though the outpourings in Pierces Supererogation (Aug./Sept. 1593) were reiterated in A New Letter of Notable Contents (Oct. 1593). Harvey might have felt as if he had left something out in his initial onslaught of praise and adulation. The relevant passages pertaining to Oxford-Shakespeare are consolidated in 3.1.7.1.
In his new pamphlet, Harvey expresses his delight at the fact that Nashe received a reprimand from above and that he was forced to rewrite a passage in the foreword to Strange Newes. Furthermore Nashe wrote an apology to Harvey in September 1593, concurrently with the publication of Pierces Superogation (something that he never have done without having been forced in to it). In other words: someone (perhaps the Earl of Oxford himself?) had forced Nashe to extend the hand of reconciliation to his enemy. In the foreword to the first printing of Nashe's Christ's Teares over Ierusalem (Sept. 1593) he writes:
Even of Maister Doctor Harvey, I heartily desire the like, whose fame and reputation (though through some precedent iniurious provocations, and fervent incitements of young heads) I rashly assailed: yet now better advised, and of his perfections more confirmedly persuaded, unfainedly I entreat of the whole world, from my pen his worths may receive no impeachment.
Once he had read this apology, Harvey knew no bounds. In September 1593, working at pace that suggests that the author feared the devil himself at his back, he writes A new Letter of Notable Contents. Perhaps he sees an opportunity to win the "excellent Gentlewoman" over to his side once and for all. A more plausible explanation for his following behaviour might be that he was so impatient to read the much awaited "Reply" from the"Gentlewoman", that he wrote it himself. On hearing of the death of the eccentric chatterbox Peter Shakerley (buried on 18 September 1593), Harvey drafts his strange poem "GORGON" in which he mocks Nashe as a "second Shakerley".
When Shakespeare's response came, in the form of a comedy, it was'nt anything like what Harvey expected.
To my loving friend John Wolfe, printer to the City.
Mr. Wolfe, Good News was ever a welcome guest unto me, and you do well in the current of your business to remember the Italian proverb, Good Tidings would be dispatched to ride post, as Ill Tidings may have good leave to be a footman. The nimblest bee is a slow-worm in expeditions of importance or congratulation, & the dullest snail the meetest ambassador to be employed in messages of damage or condolement...
You know I am not very prodigal of my discourse with everyone, but I know unto whom I write, & he that hath read and heard so many Florentine Discourses[2] as you have done may the better discern what is what: and he that publisheth so many books to the world as you do[3], may frame unto himself a private & public use of such conference. Few they are that are qualified to surpass or equal those singular Presidents, but they few would be retained with a golden fee, or entertained with silver Courtesy. Some I know in Cambridge, some in Oxford, some in London, some elsewhere, dyed in the purest grain of Art & Exercise, but a few in either, and not many in all that undoubtedly can do excellently well, exceedingly well. And were they thoroughly employed according to the possibility of their Learning & Industry, who can tell what comparison this tongue might wage with the most flourishing Languages of Europe, or what an inestimable crop of most noble and sovereign fruit the hand of Art, and the spirit of Emulation, might reap in a rich and honourable field? Is not the prose of Sir Philip Sidney, in his sweet Arcadia, the embroidery of finest Art and daintiest Wit? Or is not the verse of M. Spenser in his brave Faerie Queen the Virginal of the divinest Muses and gentlest Graces? Both delicate Writers: always gallant, often brave, continually delectable, sometimes admirable. What sweeter taste of Suada than the prose of the One, or what pleasanter relish of the Muses than the verse of the Other? Sir John Cheke's style was the honey-bee of Plato, and M. Ascham's Period the Siren of Isocrates[4]. His, and his, breath the balm and spikenard of the delightfullest Tempe.
You may guess whose metre I would entitle the harp of Orpheus, or the dulcimers of Sappho. And which of the golden rivers floweth more currently than the silver stream of the English Ariosto?[5] Oh, that we had such an English Tasso: and oh, that the worthy du Bartas were so endenizened [naturalized].
The sky-coloured Muse[6 best commendeth her own heavenly harmony], and who hath sufficiently praised the hyacinthine & azure dye, but itself? What colours of astonishing Rhetoric or ravishing Poetry more deeply engrained than some of his amazing devises, the fine ditties of another Petrarch or the sweet charms of pure enchantment? What Dia-margariton [powder of pearls] or Dia-amber so comfortative or cordial as Her Electuary [medicinal paste mixed with honey] of Gems (for though the furious Tragedy Antonius be a bloody chair of estate, yet the divine Discourse of life and Death is a restorative Electuary of Gems) whom I do not expressly name[7], not because I do not honour Her with my heart, but because I would not dishonour Her with my pen, whom I admire, and cannot blazon enough.
Some other Paragons of beautifullest Eloquence, and Mirrors of brightest wit, not so much for brevity's sake, as for like Honour's sake, I overskip, whose only imperfection is that they are touched with no imperfection... The prompt and pliant Nature is the dawning of the Crimson morning, the right Art as fine a workman as Daedalus, & as nimble a Planet as Mercury; aspiring Imitation may climb high; how oft hath fiery Emulation won the golden spurs, and run his Victorious race like the shining Sun in his resplendishing Chariot? Pregnant and incessant Exercise hatcheth miracles. Practise was ever a curious platformer of rare and quaint Theorics [theories], and is it not still possible for Practise to devise as exquisite patterns as ever were invented, and even to contrive new Idees of singularity? The encounter of Virtue is honourable, & what more commendable than the Conflict of Art?
Men may stand upon braving terms, and puff up their own swelling veins, but when wilfulness is in the tide, Discretion is in the ebb. Some have repented them no less than four and twenty hours in a day and a night for one froward word. Surely a man were better shift his footing than stand stiffly in his own light, and who would not rather say to his Tongue, Tongue thou art a liar, or to his pen, Pen, thou art a fool, than undo himself utterly, and shame himself everlastingly?
You might hear of the new Treaty or motive, and it is not the first time that I have discovered a brood of wits like the famous well in Idumea [Edom], whose water one quarter of the year was muddy as the muddiest kennel; another quarter, as bloody as the bloodiest slaughter-house; the third, as green as the greenest grass; the fourth, as clear as the clearest conduit… A good bargain and a gentle Offer would not be refused: but he that considereth the fits of April and the pangs of September[8 hath reason for a demurrer [an objection raised], and he that hath seen as lunatic creatures as the Moon must be pardoned though he suffer not himself to be cozened with the legerdemain of a juggling Convert…
Now he hath a little mused upon the Funeral Tears of Mary Magdalen, and is egged on to try the suppleness of his Pathetical vein in weeping the compassionatest and divinest tears that ever heavenly Eye rained upon Earth; Iesu, what a new work of Supererogation have they achieved! Riotous Vanity was wont to root so deeply that it could hardly be unrooted, and where reckless Impudency taketh possession, it useth not very hastily to be dispossessed. I was saying, What say you to a Spring of rankest Villainy in February, and a harvest of ripest Divinity in May? May they not surcease to wonder, that wonder how Machiavel can teach a Prince to be, and not to be, religious?[9] Another question or two of sharper edge were at my tongue's end. But what should we hereafter talk any more of Paradoxes or impossibilities, when He that penned the most desperate and abominable Pamphlet of Strange News, and disgorged his stomach of as poisonous rancour as ever was vomited in Print, within few months is won, or charmed, or enchanted (or what Metamorphosis should I term it?) to astonish carnal minds with spiritual meditations upon one of the most sacred and godful arguments that the holiest devotion could admire in the profoundest trance of rapt Seraphical Zeal? …The best is, I am not yet a Fly in the cobweb of the Spider …
Had I found any one material article or substantial point against me, I must have imputed some part of the blame to myself: but finding nothing in all those pestilent & Virulent sheets of waste paper but mere-mere forgeries, and the Devil in the horologe, might I not justly say? I have cause to use as I am used: or have I not reason to stand upon terms of consideration? Did I not intend to deal a bountiful alms of Courtesy, who in my case would give ear to the Law of Oblivion that hath the Law of Talion ['eye for eye, tooth for tooth'] in his hands; or accept of a filthy recantation, as it were a sorry plaster to a broken shin[10], that could knock Malice on the head, and cut the windpipe of the railing throat?
Pierce's Supererogation (that was an arrow in my hand, or clog in your) is least beholding to the penknife: Nashe's St. Fame hath somewhat more of the lancelet [lancet]: the Reply of the excellent Gentlewoman is the fine razor that must shave-away every rank hair of his great courage and little wit[11]. I was long since aweary with beating the Air, and take small pleasure in washing the Asses head, or what should I term that bootless and irksome business. But it is that heavenly Creature (for so she will approve herself) that can conjure-down the mouth of Villainy into hell-mouth, & will do it as resolutely as she can do it peremptorily, Unless a competent satisfaction be speedily tendered to my contentment. It were pity that divine handiwork should be employed but to a divine piece of service, either to gain a relenting soul, or to cast away an obstinate body. If she be prevented by a voluntary submission of the offender[12], to do a thing done were a superfluous labour, and to undo a man undone, an unmerciful cruelty. A thing as contrary to the shining loveliness of her mild disposition as the bitterest bitter seemeth repugnant to the sweetest sweet.
The bravest man is such a personage as I have elsewhere described: A Lion in the field, A Lamb in the town, A Jove's Eagle in feud, an Apollo's Swan in society, A Serpent in wit, A Dove in life, a Fury in execution, an Angel in conversation[13]. What hath the bravest man that she hath not: excepting the Lion in the field of Mars, which she hath in the field of Minerva, whose war she wageth with a courageous mind, an invincible hand, and the cunning array of the worthy Old-man [Nestor] in Homer[14]. His talk was sweet, his Order fine, and his whole menage brave: and so is hers: but for a dainty wit and a divine humanity she is such a Paragon as may compare with the excellentest of Homer's women, and pledge the honourablest of his Goddesses [Minerva][15]. She is a right bird of Mercury's winged chariot, and teacheth the liveliest cocks of the game to bestir them early, to crow gallantly, to march comely, to fight valiantly, to consort kindly, and to live in any estate honourably[16]. No flower more flourishing than her wit: no fruit more mature than her judgement. All her conceits are illuminate with the light of Reason[17]: all her speeches beautified with the grace of Affability: all her writings seasoned with the salt of Discretion : all her sentences spiced with wittiness, perfumed with delight, tempered with profit : no leaven of Experience more savoury than all her platforms & actions: nothing more mellow than the whole course of her life. In her mind there appeareth a certain heavenly Logic: in her tongue & pen, a divine Rhetoric: in her behaviour, a refined Moral Philosophy: in her government, a sovereign Policy : in every part of her proceeding, a singular dexterity: & what pattern of skill or Practice more admirable than the whole?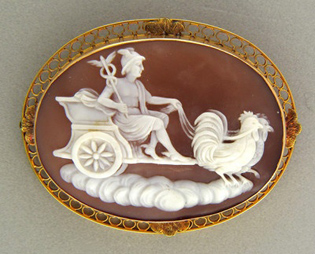 The Mercury chariot
Let it not seem incredible that shall enact & accomplish more than is signified. The manner of her wrath or disdain (yet I believe she was never froward with any, nor ever angry but with One, whom only she scorneth, & before whom she never contemned any) is somewhat like the counter-tenor of an offended Siren, or not much unlike the progress of the resplendent Sun in the Scorpion. Her favour is liker treacle [theriac] for the heart than hippocras for the mouth: her disfavour like the Moon withdrawing the cheerly beams of her bounteous light in a cloud: her hatred (if she can hate, for I verily think she never hated but One[18]) like the flashing weapon of the fiery Air. She is not lightly moved: but what she resembleth or representeth when she is moved, could I as visibly declare as she can vigorously utter, I would deem myself a piece of an Orator. And I were more than Tully's [Cicero's] perfect Orator if I could display her excellent perfections, whose mind is as full of rich gifts and precious Iewels as New-year's day. Yet her goodliest ornament and greatest wonder is the sweet humility of that brave courage.
But in remembering her, I forget myself[19]: & what a tedious Letter is here for him [John Wolfe] that maintaineth a chargeable family by following his business. Had I not found you desirous of some particularities touching Nashe's St. Fame, & The Gentlewoman's Reply, when you delivered unto me Pierce's Supererogation in Print, I had dispatched ere now. But now you must lend me patience until I have disbalassed my mind. Concerning her inditing [literary composition], whereof I have already given you a taste or smack in Pierce's Supererogation : as in the harmony of her mind, so in the melody of her Verse, I seldom or never descry any note out of tune; and it is not the first time I have termed her Prose the tinsel of finest Art and sweetest nature[20].
What notes I find above Ela [the highest note in the gamut] in the One: & what counterpoints of exquisite workmanship I admire in the other, it shall elsewhere appear in a dialogue intituled Pandora, or The Mirror of Singularity[21]. Might I see the finest Art and the sweetest nature in person, I would report me to the Censure of their own sovereign mouthes, the best Iudges in their own peerless faculty.
There falleth not a sentence from her quill without sap and pith: and every Period of her style carrieth marmalade and sucket in the mouth[22]: and every argument of her invention savoureth of most savoury reason. No chain so linked as her Conclusions: nor any Crystal so conspicuous as her Method. Her whole discourse is the cream of the milk, the comb of the honey, the juice of the grape & the marrow of the bone. The bestowing of her perfections at occasion, a dainty choice, & fine marshalling of every excellency, curiously sorted in their proper places: like the gorgeous wardrobe of Helena, or the precious Iewel-house of Cleopatra, or the cunning still-house [distillery] of Medea[23], or the comely distributing of the neatest and gallantest furniture in the richest Oeconomy. What needeth more? Her beginning, like the purest Oil in the crown of the roundlet [runlet][24]; her proceeding, like the sovereignest wine in the middest of the butt; her ending, like the sweetest honey in the bottom of the honey-pot.
Her intention was defensive, not offensive, and had anything been tolerable in that scurrilous and villainous declamation, assuredly she would a thousand times rather have excused the matter than accused the maker. Humanity is ever willinger to love than to hate, & so is she; Courtesy, much forwarder to commend than to dispraise, and so is she; Clemency, infinitely proner to absolve than to condemn, and so is she. For she is a personal Humanity, a mere Courtesy, and a Clemency incorporate.
But when she saw the foul mouth [of Thomas Nashe] so shamefully run-over, without all respect of manners, or regard of honesty, or pretence of Truth, or colour of Reason :
Gentlemen, quoth She, though I lack that you have, the Art of confuting, yet I have some suds of my mother wit to souse such a Dish-clout in[25] : and if sousing will not serve the turn, I may hap find a pair of Pinsons as sharply conceited as St. Dunstan's tongs[26] that led the Devil by the nose, Autem [moreover] up and down the house, till the roaring beast bellowed out like a bull-beggar [terrorizing scare-crow]. And as for his terrible cracks of Gunpowder terms, never lend credit to the word of A Gentlewoman, if I make not old mother-Gunpowder of the newest of those rattling babies. And if steeping in Aqua fortis will infuse courage into this goose-quill; why man, I will douse thee over head and ears in such a doughty Collyrium [eye-salve] as will inspire the Picture of Snuff and Fury into the Image of St. Patience. I have not been squattering at my papers for nothing, and albeit I cannot paint with my pen like fine Sappho, yet I can daub with my ink like none of the Muses : and am prettily provided to entertain St. Fame [Nashe's Muse] with a homely gallimaufry [hodge-podge] of little Art, to requite her dainty flaumpaump [flampoint = a pie or tart ornamented with pointed pieces of pastry] of little wit. - A poor kitchen may be as good an artist for the stomach as a poor dairy (alas, that ever St. Fame should be so whittled), and it shall go hard in my Cookery but the syllabub [cream and wine] of his stale Invention shall be welcomed with a supping of a new fashion, & some strange syrup in commendam of his meritorious works. Though a railer hath more learning than a shrew: yet Experience hath a fillip [flip] for a Scholar: Discretion a tuck for a fool: Honesty a bob for a K[nave][27]: & my mortar, a pestle for Assa f[o]etida[28]. Let him be the Falanta down-diddle of Rime[29], the Hey-ho holiday of Prose[30], the Welladay of new writers, the cutthroat of his adversaries, the gallows of his companions, the only broker of Pamphlets, or what he can for his sweltering heart: my battering instrument is resolute, and hath vowed to bray the braying creature to powder. We must have at least three Peccavies of Pierce Pennilesse, and three Misereres of the Confuting Tosspot: or Lord have mercy upon thee, three thousand times woeful wight. I am loath to struggle for the Moonshine in the puddled water: but if we must needs buckle for nifles, and grapple for naughts; though I cannot tell whether I can bounce him, like a barn-door, or thump him, like a drum of Flushing: yet I may chance rattle him like a baby of parchment, or knead him like a cake of dough, or churn him like a dish of butter, or jerk him like a hobbling gig, or tatter him like a thing forspoken, or someway have my Penny-worthes of his Pennilesse wit[31]. Nay, if the Princock [pert, saucy boy or youth] must be playing upon them, that can play upon his warped sconce as upon a tabor or a fiddle: let himself thank himself if he be kindly thumbed. Sirrrah, I will stamp an unknown grape that shall put the mighty Bordeaux grape to bed: & may peradventure broach a new Tun of such nippitaty as with the very steam of the nappy liquor will lullaby thy five wits, like the senses of the drunkenest sot when his brains are sweetliest perfumed. I fit thee with a Similitude for thy capacity: or belch a new Confutation against the long tongues of the Stilliarde [Steelyard], and some twenty Taverns in London. I could be content, a drunken Prose and a mad Rime were thy deadliest sins. But they are sweet youthes, that tipple their wits with quaffing of knavery, and carousing of Atheism [32]. If there be no other jollities at home, or braveries abroad, it is happy for them that were born with those prizes in their throats.
And welfare a frolic Courage, that will needs be the Tower of Babylonian Conceit, and with a mighty Bulwark of Supererogation gloriously confound itself...
The rest of her speeches and writings are to be recorded, or suppressed as it pleaseth the Horn of these pelting stirs, who may haply find the Trumpet of peace, as sure a Soldier in case of necessary defence, as the Drum of War, or the Swash of Feud. Some that have perused eloquent books, and researched most curious writings, have not seen goodlier variety of varnished phrases and burnished sentences than in her style: which was not so gorgeously decked, and so fairly limned for naught. Howbeit as in some public causes, better a mischief than an inconvenience: so in many private cases better an inconvenience than a mischief. Though an Orient Gem be precious, and worthy to be gazed upon with the eye of Admiration, yet better an Orient Gem sleep than the Penitent man perish: and better a delicate piece of Art should be laid aside, or unwoven like Penelope's web, than an immortal piece of Nature be cast away. She loveth not to confute that confuteth itself: & I hate to confound that confoundeth himself. She in the Court of Civility hath learned to embrace amendment with the arms of Courtesy[33]: and I in the school of Divinity am taught to kiss repentance with the lips of Charity[34]. I affect not any colourable insinuation in glozing or smoothing terms of formal accord, but misery accompany my actions, and the mercy of heaven be my unmerciful enemy, if I desire not with a longing heart to wreak my teen upon wild undiscretion by requiting good for bad, & converting the wormwood of just offence into the angelica of pure atonement. The only reason of my demurrer is my assurance, which consisteth rather in diffidence than in credulity, and cannot warrantise itself what will be done until it is done. He were very simple that, having so heavy causes of diffidence, and so light causes of credulity, would run hastily into the trap, or suffer himself to be presently entangled in the snare...

There hath already been a large expense of time, & charges continually run, & matters of more importance lie dead in the nest, & the burned finger hath reason to startle from the fire, and he that hath been once abused would not willingly be abused twice, and Security cannot be too precise or scrupulous, and I would there were no Cony-catchers in London. Till a public injury be publicly confessed, and Print confuted in Print, I am one of St. Thomas' disciples: not over-prest to believe, but as cause causeth: and very ready to forgive, as effect effecteth.

They that know the danger of Truces and the coven of Treaties, ut supra, must beg leave to ground their repose upon more cautels than one, and to proceed in terms of suspense or Pause, till they may be resolved with infallible assurance. For mine own determination, I see no credible hope of Peace, but in War, and could I not command that I desire, I am persuaded, I should hardly obtain that I wish…

To make short (for no let or Loadstone so attractive as Lines, that draw unto them so many self-offering sentences: and I have already unmeasurably exceeded my stint), he that longeth to enjoy the fruit of private amity and public favour hasteth not to embrace the blossom, or to dote upon the shadow. His only small request and affectionate prayer is that howsoever poor men be used, the dear Tears of Christ and the cheap Tears of Repentance be not abused. All is well that endeth effectually well[35]: & so in some haste he endeth, that wisheth you entirely well: and for your instruction can assure you, he needeth not to send to Athens for honey, or to Spain for sugar, or to Italy for Aniseeds, or to the Orient for sanders or pearls, that may find as fine and dainty choice nearer hand. I can say nothing for myself, whose date is expired: but I dare ascertain you, three drops of the Oil of roses or three drops of the Mercury of Bugloss[36] will enstrengthen the brain or comfort the heart more than six, and six ounces, of their common syrups. A greater difference betwixt artificial and rude styles, refined and drossy wits, skilful and ignorant judgements, available and unprofitable works, I commend to the consideration of the Press, with a right hearty Farewell.

This 16 of September, 1593. Your assured, wherein he may pleasure you, Gabriel Harvey.

Sonnet

Gorgon, or the wonderful year[37] St. Fame

, disposed to cony-catch the world

[38]

,

Uprear'd a wonderment of

Eighty-Eight[39]

:

The

Earth

, adreading [dreading] to be overwhirled,

What now avails, quoth She, my balance weight?

The circle smiled to see the Centre fear:

The wonder was, no wonder fell that year

[40]

.

Wonders enhance their power in numbers odd

[41]

:

The fatal year of years is

Ninety-Three

:

Parma

hath kissed; De-maine entreats the rod

[42]

:

War wondereth,

Peace in Spain and France to see[43]

:

Brave

Eggenberg

the doughty

Bassa

[Pasha] shames:

The Christian

Neptune

Turkish

Vulcan

tames

[44]

.

Navarre

woos Rome:

Charlemaine

gives

Guise

the Fie

[45]

:

Weep, Paul's, thy

Tamburlaine

vouchsafes to die

[46]

.

L'envoy

The hugest miracle remains behind,

The second Shakerley Rash-Swash to bind[47]

.
A Stanza declarative: to the Lovers of admirable Works.

Pleased it hath a Gentlewoman rare,
With Phoenix quill in diamond hand of Art,
To muzzle the redoubtable Bull-bear[48],
And play the galliard [valiant] Championess's part.
Though miracles surcease, yet Wonder see
The mightiest miracle of Ninety-Three.
Vis consilij expers, mole ruit sua.
[Force without wisdom falls by its own weight.]


The Writer's Postscript: or a friendly Caveat to the Second Shakerley of Paul's.

Slumbering I lay in melancholy bed
Before the dawning of the sanguine light.
When Echo shrill, or some familiar spright [spirit][49] Buzzed [murmured] an epitaph into my head:
Magnific minds, bred of Gargantua's race[50],
In grisly weeds [garments] his obsequies wayment [lament],
Whose corps [body] on Paul's, whose mind triumphed on Kent[51],
Scorning to bate Sir Rodomont an ace[52].
I mused awhile, and having mused awhile,
Iesu (quoth I), is that Gargantua mind
Conquered, and left no Scanderbeg behind?[53] Vowed he not to Paul's A Second bile [furuncle]?
What bile or kibe [chilblain]? (quoth that same early spright),
Have you forgot the Scanderbegging wight?[54] Gloss
Is it a Dream, or is the Highest Mind
That ever haunted Paul's, or hunted wind,
Bereft of that same sky-surmounting breath,
That breath that taught the Tympany to swell?[55] He and the Plague contended for the game:
The haughty man extols his hideous thoughts,
And gloriously insults upon poor souls
That plague themselves, for faint hearts plague themselves.
The tyrant Sickness of base-minded slaves,
Oh, how it domineers in Coward Lane?
So Surquidry rang-out his larum-bell,
When he had girned at many a doleful knell.
The grand Disease disdained his toad Conceit,
And, smiling at his tamburlaine contempt,
Sternly struck-home the peremptory stroke.
He that nor feared God, nor dreaded Devil,
Nor aught admired but his wondrous self:
Like Iuno's gaudy Bird, that proudly stares
On glittering fan of his triumphant tail:
Or like the ugly Bug that scorned to die,
And mounts of Glory reared in towering wit:
Alas: but Babel Pride must kiss the pit.[56] L'envoy
Paul's steeple, and a hugier thing is down;
Beware, the next Bull-beggar of the town.[57] Fata immature vagantur.
[The fates change prematurely]
FINIS.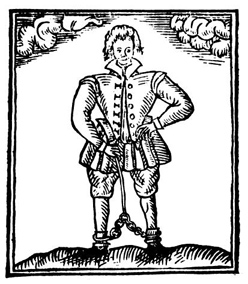 Thomas Nashe in chains
In spite of the lip service that he paid to the concept of harmony and tolerance, when Harvey received an offer of reconciliation from Nashe (albeit a rather tepid offer); he turned it down categorically. Not only that, he set the authorities on to Nashe for certain irreverent remarks that he had made. Nashe was arrested and put behind bars for several weeks. It's hardly surprising that Nashe developed a deep and lasting hatred for Harvey.

Thomas Nashe, Christ's Teares, 2nd edition (April 1594)
TO THE READER.
Gentlemen, my former Epistle unto you in this place began with Nil nisi flere libet [I
care for naught but weeping, Ovid, Tristia III]; now must I of necessity alter that posy, and transpose my complaint to a new tune of Flendus amor meus est [my love must be complained, Ovid, Heroides XV]. The love or pity I showed towards mine enemy, of all my ill fortunes hath most confounded me. The only refuge which for my abused innocency is left me, is to take unto me the Academics' opinion, who absolutely conclude that nothing is to be affirmed. Kings and Emperors that by the Popes curse have been terrified from wars they intended, have termed religion the mother of cowardice, resolution's manacles, honour's misery. Religion or conscience hath made me sacrifice my zealous wit to simplicity, and my devout pen to reproachful penitence. The druggers at Venice, to approve their Mithridate to the Physicians[58], take Spiders and eat them: so I, to approve the Mithridate of my new divinity to the special Physicians of our souls here in England, determined with myself to digest a spider, that is, swallow all injuries, to my credit how baneful soever, and embrace sweet peace. Clean contrary to my expectation it hath fallen out, for treason was shrouded under terms of truce: whereas I thought to make my foe a bridge of gold, or fair words, to fly by, he hath used it as a highway to invade me. Hoc pia lingua dedit [such was the reward of my piety and plain-dealing. Ovid, Heroides XV].
This it is to deal plainly. An extreme gull he is in this age, and no better, that believes a man for his swearing. Impious Gabriel Harvey, the vowed enemy to all vows and protestations, plucking on [=down] with a slavish private submission a general public reconciliation[59], hath, with a cunning ambuscado [ambush] of confiscated idle oaths, well-near betrayed me to infamy eternal[60] (his own proper chair of torment in hell). I can say no more but the devil & he be no men of their words. Many courses there be (as Machiavel inspiredly sets down) which in themselves seem singular & virtuous; but if a man follow them, they will be his utter subversion; others that seem absurd, odious and vicious, that well looked into will breed him most ease. This course of shaking hands with Harvey seemed at the first most plausible and commendable, and the rather because I desired to conform myself to the holy subject of my book; but afterwards (being by his malice perverted), it seemed most degenerate and abject. Henceforth, with the forenamed Machiavel, for an unrefutable principle I will hold it, that he is utterly undone which seeks by new good turns to root out old grudges. A proverb it is as stale as sea-beef; save a thief from the gallows, and he'll be the first shall show thee the way to Saint Giles [in the Fields, the way to Tyburn][61].
Harvey I manifestly saved from the knot under the ear; verily he had hanged himself had I gone forwards in my vengeance: but I know not how, upon his prostrate entreaty, I was content to give him a short psalm of mercy; now, for reprieving him when he was ripe for execution, thus he requites me. Six and thirty sheets of mustard-pot paper since that hath he published against me, wherein like a drunken beggar he hath railed most grossly, and imitated the rascally phrase of sunburnt rogues in the field. Was never whore of Babylon so betrapped with abominations as his style (like the doghouse in the fields) is pestered with stinking filth. His vainglory (which some take to be his gentlewoman) he hath new painted over an inch thick. Some few crumbs of my book he hath confuted; all the rest of his invention is nothing but an ox with a pudding in his belly[62], not fit for anything else save only to feast the dull ears of ironmongers, plowmen, carpenters and porters. Master Lyly, poor deceased Kit Marlowe, reverent Doctor Perne, with a hundred other quiet senseless carcasses before the Conquest departed, in the same work he hath most notoriously & vilely dealt with, and, to conclude, he hath proved himself to be the only Gabriel Grave-digger under heaven. Thrice more convenient time I will pick out to stretch him forth limb by limb on the rack, and a field as large as Achilles' race to bait him to death with darts according to the custom of baiting bulls in Spain. Nevermore let him look to quench wildfire with milk, or mitigate the matter with mild terms, for Lycia in times past was not one-half so afflicted with the fires of Chimera, as he will be with the thunder & lightning of some men's fury up in arms. I speak not of myself so much as of foreign preparations that are whetting their pens to prick him to death[63].
Excuse me, Gentlemen, though I be obstinately bent in this quarrel, for I have tried all ways with mine adversary. Heretofore I was like a tyrant which knows not whether it is better to be feared or loved of his subjects. First I put my fear in practice, and that housed him for awhile; next into my love and my favour I received him, and that puffed him up with such arrogance that he thought himself a better man than his master, and was ready to jostle me out of all the reputation I had[64]. Let him trust to it, I'll hamper him like a jade as he is for this gear, & ride him with a snaffle up & down the whole realm[65]. But because here I have showed myself in divinity, of divers great divines I asked counsel, and made it a matter of conscience whether it were lawful to rap a fool with his own bauble, and teach him to know himself, and they expressly certified me it was every way as allowable as the punishing of malefactors and offenders. Indeed I have heard there are madmen whipped in Bedlam, and lazy vagabonds in Bridewell, wherefore me seemeth there should be no more difference betwixt the displing [disciplining] of this vain Braggadocio than the whipping of a madman or a vagabond.
Sources:
- A new letter of notable contents With a straunge sonet, intituled Gorgon, or the wonderfull yeare. London: Printed by Iohn Wolfe, 1593.
- Sir Egerton Brydges, Old English Prose Tracts, vol.II, London 1815
- The Works of Gabriel Harvey, ed. by Alexander B. Grosart (3 vols). Huth Library 1884–85 (Reprint, Kessinger 2007)
- Gabriel Harvey: an edition of the anti-Nashe tracts by P.B. Roberts. Cardiff University, 2010.
NOTES
---
PAGE [= BOY]. A wonder Maister, Heers a Costard [head] broken in a shin.
ARMADO. Some enigma, some riddle, come, thy Lenvoy begin.
CLOWNE . No egma, no riddle, no lenvoy, no salve, in thee male sir. (…)
ARMADO. But tel me, How was there a Costard broken in a shin?
PAGE. I will tell you sencibly.
CLOWNE. Thou hast no feeling of it Moth, I will speake that Lenvoy.
I Costard running out, that was safely within,
Fell over the threshold, and broke my shin.
For Gallants a brave Mirror [a Lamb in the town], a Primrose of Honour [a Dove in life],
A Diamond for nonce, a fellow peerless in England [an Apollos Swan in society].
Not the like Discourser for Tongue, and head to be found out [an Angel in conversation]:
Not the like resolute Man, for great and serious affairs [a Fury in execution],
Not the like Lynx to spy out secrets, and privities of States [a Serpent in wit],
Eyed like to Argus, Eared like to Midas, Nos'd like to Naso…
A Vulture's smelling, Ape's tasting, sight of an Eagle [a Ioves Eagle in feud],
A spider's touching, Hart's hearing, might of a Lion [a Lion in the field].

The man whom he was describing then, and is describing here is the Earl of Oxford.
PAGE [= BOY]. Maister, let me take you a button hole lower . Do you not see, Pompey is uncasing for the Combat: What meane you? you will loose your reputation.
BRAGGART [= ARMADO]. Gentlemen and Souldiers, pardon me, I will not combat in my shirt.
DUMAINE. You may not deny it, Pompey hath made the challenge.
BRAGGART. Sweete bloodes, I both may and will.
BEROWNE. What reason have you for't.
BRAGGART. The naked trueth of it is, I have no Shirt. I goe Woolward for pennance.
BOYET. True, and it was injoined him in Rome for want of Linnen: since when, Ile be sworne he wore none, but a dish-cloute of J aquenettaes, and that a weares next his hart for a Favour.

VER: No, faith, nor care not whether I do or no.
If you will dance a Galliard, so it is; if not,
Falangtado, Falangtado, to wear the black and yellow:
Falangtado, Falangtado, my mates are gone, I'll follow.


Then Daphne's bays shall that man wear,
That triumphs over me;
For black and tawny will I wear,
Which mourning colours be.
Post mille expletos á partu Virginis annos,
Et quingentos rursus ab orbe datos:
Octogesimus octavus mirabilis annus
Ingruet, is secum tristia fata feret.
Si non hoc anno totus malus occidet orbis,
Si non in nihilum terra fretumque ruet:
Cuncta tamen mundi sursum ibunt atque retrosum
Imperia, et luctus undique grandis erit.




When after Christ's birth there be expired
of hundreds, fifteen years eighty and eight,
Then comes the time of dangers to be feared,
and all mankind with dolors it shall fright:
for if the world in that yeer do not fall,
if sea and land then perish ne decay:
yet Empires all and kingdoms alter shall,
and man to ease himself shall have no way.


---