4.3.1. A marginal source relating Measure for Measure
(An excerpt from: Anonymous SHAKE-SPEARE. The Man Behind.)
I
With an old camera in my rucksack and a veiled suspicion in my head, following in the footsteps of Richard P. Roe, I went to Padua in search of "the moated grange".
Shakespeare's blackest comedy Measure for Measure is set in Vienna – yet not in Vienna. The characters all have Italian names. The source of the piece is Italian (Giraldi Cinthio, Hecatommithi VIII, 5) and the intrigues are all Italian by nature. - We remember: Angelo, the Deputy of the Duke, promises to pardon Isabella's brother Claudio of the crime of fornication if she goes to bed with him. In the same breath, he orders Claudio's execution. Fortunately the Duke, disguised as a monk, manages to put a stop to this puritan hypocrite's machinations.
I formerly vented the suspicion that Shakespeare's Vienna stands for Milan where a similar assault, sentenced by the governor of Milan, took place in 1547 (see: Kreiler 2009 – and: The Plot of Measure for Measure. Notes and Queries, July 29, 1893). However; how did Shakespeare know about Milan? In Cinthio's Hecatommithi, the event is set in Innsbruck and the governor is replaced by Maximilian I (1459–1519), the Holy Roman Emperor. – Shakespeare then speaks of "Vienna" thus bringing the story under the sovereignty of the Habsburgs.
Now we have to ask: "Which Italian town, under Habsburg influence, has a "convent of the order of Saint Clare", a church with the name of "Saint Luke's" and a "moated grange" nearby?
DUKE. I will presently to Saint Luke's; there, at the moated grange, resides this dejected Mariana. (III/1)
As I already knew from Richard P. Roe, Padua has a "St Luke's" church – close to an old canal dock. Furthermore, up until the outbreak of the plague in 1576, Padua had a Convent of the order of St Claire. As fate would have it, this convent was used as Maximilian I Headquarters when he besieged the city in 1509.
Just what did the Duke mean when he spoke of "The moated grange"?
I took a stroll in Padua, and found, with a great degree of certitude, the moated grange. This mysterious building used to be the fortress of Francesco de Carrara, which lost its purpose with the Venetian occupation of Padua (1405). Since the 15th century the town used it as a corn silo – a grange.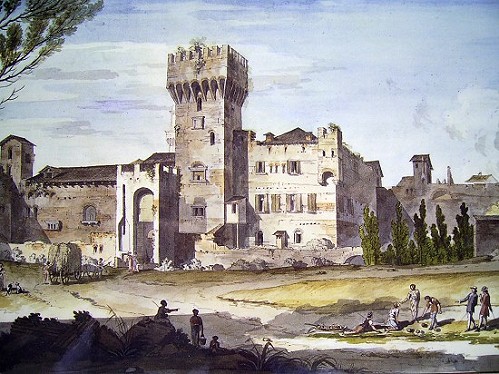 Padua, Castello di Francesco I da Carrara. Illustration from the 18th century.
Three sides of the fortress are bordered by canals with flowing water. It is three minutes walk from St Luca. In the face of this pleasant discovery I took out my trusty old camera.
Padua, the moated grange (2010)
Enter MARIANA, and BOY singing
Take, O, take those lips away,
That so sweetly were forsworn;
And those eyes, the break of day,
Lights that do mislead the morn;
But my kisses bring again, bring again;
Seals of love, but seal'd in vain, seal'd in vain. (IV/1)
II
The key also fits this lock. We may assume that Oxford's own experience with "punished love" will have influenced his choice of material here. Let's bear in mind that his affair with a lady in waiting got him an illegitimate son (March 1581), nine weeks custodia honesta in the tower of London and three years ban from court.
Measure for Measure: A young man (Claudio) gets his girlfriend pregnant. Angelo, the zealously puritan governor, wishes to have him beheaded for the crime of fornication. When Claudio's sister, Isabella, pleads with the governor for Claudio's life he makes the following deal with her: In return for a night with Isabella, Claudio will be spared. She agrees but Angelo goes back on his word. The very next day Claudio's head is delivered to Isabella. However, with the play being a comedy, Duke Vincentio, (the true ruler of Venice, whom Angelo thought to be out of town) substitutes Angelo's estranged wife for Isabella, in the governor's bed and a common criminal for Claudio, on the executioner's block. Vicentios dubious omnipresence reminds us of Queen Elizabeth's role of "primordial mother" watching over her charges with the eyes of a hawk and who, when need be, puts things to rights with a firm hand. Duke Vincento doesn't face the final curtain empty handed, the beautiful Isabella doesn't spend the rest of her life in a convent, she spends it with him.
Shakespeare (or shall I call him Oxford) stuck closely to the original of this comedy that not everybody laughs about – Giraldi Cinthio's narration from Hecatommithi (1565). He only makes two changes: Firstly, Cinthio's young man uses force on a young woman, whereby Claudio's only crime was consensual, albeit illegal sex, between two lovers. Secondly, Cinthio's justice looses his head whereby Shakespeare, in keeping with the genre of comedy, spares Angelo's life. It is as if he were sending a message to Elizabeth not to be so judgemental and sanctimonious.
One could be inclined to think that the death penalty for consensual sex is unrealistic, even for the sixteenth century. Not so! The court chronicler Pierre de L' Estoile noted in his Registre-Journal of the year 1582 that a young man was sentenced to death when he got the daughter of the Auditor-General pregnant. He was saved by his friends and by the crowd directly at the place of execution. One month later, instead of the unjustly condemned Claude Tonart, "a common thief" (one of Tonart's liberators) was executed.
---