3.2.3. Penelopes Complaint (1596) contra Willobie his AVISA, The Apology (1596)
PENELOPES COMPLAINT
By Peter Colse.
1596
Two years after Willobie his AVISA a certain Peter Colse, of whom nothing else is known, publishes a poem, Penelopes Complaint, echoing AVISA; however, Colse rebukes both Avisa and its author.
Why?
As seen Willobie his AVISA is a satire on Queen Elizabeth's suitors – a satire that hedges his bets by the praise of the "chaste and constant AVISA", "Avisa" meaning nothing else than "she who declines". "Henry Willobie" is in all probability the nickname of Mathew Roydon (c. 1540-1622), a member of the literary circle close to Sir Walter Raleigh; his devotional poem was double-edged for at the same time it obliquely vehicled a political objective. It was "Willobie's" aim to undermine the public image of the proud and aspiring royal favourite Robert Devereux, Earl of Essex (1565-1601). Small wonder then that in the years following its publication Willobie his AVISA elicited numerous hostile reactions. In 1599 the work was censored by the supreme censors, the Archbishop of Canterbury and the Bishop of London; three years before, in 1596, Peter Colse had replied with a polemic that attempted to throw dust in the eyes of the decipherers of Avisa. If anyone is legitimated to compare Queen Elizabeth with the Greek mythical heroine Penelope, so it is he, Peter Colse, (who recounts books XVI-XXIV of Homer's Odyssey - and not some "Anonymous" whose daughter AVISA is perhaps but the daughter of an inn-keeper. The authorities might have welcomed this targeted disinformation; possibly they even sponsored it.
Of course Peter Colse knew his dedicatee Sir Ralph Horsey. Horsey successively was sheriff (1592-3) and from 1593 deputy lieutenant of the county of Dorset. It was in Sherborne in the county of Dorset that Sir Walter Raleigh had his main estate. Raleigh and Horsey were acquainted, Horsey's was a participant in the conversation that took place about the same time and on which the Reverend Ralph Ironside based his charge of atheism against Raleigh and his brother Carew. Horsey was one of the commissioners who in March 1594 convened in Cerne Abbas 'to inquire into alleged heresies in the county of Dorsetshire'. The charge was dismissed. Thus Colse's pamphlet was dedicated to a man who was well acquainted with the alleged "atheist" circle around Sir Walter Raleigh, though probably not adhering to it. Mathew Roydon, in turn, is known to have belonged to Raleigh's circle, which enhances the probability of his authorship of Willobie his AVISA, for Essex was the great rival of Raleigh as the Queen's favourite.
PENELOPES COMPLAINT
Or
A Mirrour for wanton Minions
Taken out of Homer's Odissea
and written in English Verse
By Peter Colse.
Armat spina rosas, mella tegunt apes
[The rose is guarded by thorns, honey is protected by bees[1]]
LONDON
Printed by H. Jackson dwelling in Fleetstreet, and are to be sold at his
shop under Temple-barre gate. 1596.
To the virtuous and chaste Lady, the Lady Edith, wife of the right
worshipful Sir Rafe Horsey, knight, increase of all
honourable virtues.
Perusing (virtuous Lady) a Greek Author, intituled Odyssea (written by Homer prince of Greek poets), noting therein the chaste life of the Lady Penelope (in the twenty years absence of her loving lord Ulysses) I counterfeited a discourse, in English verses, terming it her Complaint : which treatise, coming to the view of certain of my special friends, I was by them oftentimes incited to publish it. At length weighing with myself the shipwreck that noble vertue chastity is subject unto: and seeing an unknown Author[2], hath of late published a pamphlet[3] called Avisa (over-slipping so many praiseworthy matrons, hath registered the meanest)[4] : I have presumed under your Ladyship's patronage to commit this my Penelope's complaint (though unperfectly portrayed) to the press : not doubting but the Etymology of so rare a subject, enchased with the Physiognomic of your excellent chastity : so worthy a conclusion cannot but be a sufficient argument, both to abolish Venus' Idolaters, & also to countervail the checks of Artisans' ill willers, which carp at all, but correct nothing at all : measuring other men's labours by their own idle humours. Thus offering unto your Ladyship the firstlings of my scholar's crop, for a satisfaction of my presumption, and hoping you will pardon my boldness, and accept of this my proffered service, I commit you to the grace and tuition of the Almighty.
Your Ladyship's to command
PETER COLSE.
In commendation of the virtuous, prudent and chaste
virgin, mistress Grace Horsey, daughter to the
right worshipful, Sir Ralph Horsey
knight, and the Lady
Edith.[5]
G GLORIOUS Nymph, Diana's darling deer,
R Rose-garland dress of damask red and white,
A Adorn thou Vesta's shrine, her posies wear,
C Conserved with sweet of honours high delight.
E Enter the Lyons cave, he is thy friend,
Though Dragon swell, saint George shall thee defend.

H Hunt as Diana did, with Daphne fly,
O Outrun Apollo, trust not to his rage,
R Repose no trust in Cupid's deity,
S Say frustra to his force, make him thy page.
E Enchase thou virtue with pearls of grace,
Y Youngsters may wonder at the interlace.

What fair? wise? rich? with grace combin'd?
A joy to all that such a grace behold :
So rare a sympathy is hard to find,
A gift with fame worthy to enroll'd.
Beauty and chastity two deadly foes,
Live reconciled in her lovely brows.

Fair: look on her there dwelleth beauty's grace :
Wise: her wit the wisest doth abash :
Sweet: where is sweet but in her sweetest face :
Rich: to her store al treasure is but trash.
A Grace she is with such rare graces dight [adorned],
Tongue, pen, nor art her grace can show aright.
Finis. P. C. [6]
Amico suo charissimo P. C.
S. D.
QUID quaerit titulos, quid dotes iactat Avisa.
Anne ea Penelope est aequiparanda tuae? [7]
Penelope clara est, veneranda fidelis : Avisa
obscura, obscuro foemina nata loco.
Penelope satrapae est coniux illustris : Avisa
conjux cauponis, filia pandochei.
Penelope casta est cum sponsus abesset : Avisa
casta suo sponso nocte dieque domi.
Penelopeia annos bis deitos [denos] mansit : Avisa
tot (vix credo) dies intenterata foret.
Penelopeia procos centum neglexit: Avisa
vix septem pretium sustinuitque precem.
Penelope nevit, pensum confecit : Avisa
lassauit nunquam pendula tela manus.
Penelope Graijs, Latijs celebratur : Avisa
unus homo laudes, nomen, &acta canit.
Ergo Penelope vigeat, cantetur : Avisa
nullo Penelope est aequivalenda modo.
[ To his most dear friend, P. C. — S. D.
Why seeks she titles, boasts she riches, why — Avisa.
Is she with thy Penelope to vie?
The one [= Penelope] renowned, revered, true to her own : Avisa,
an unknown woman from a place unknown[8].
The one spouse of a prince of glorious name : Avisa,
child of an innkeeper, wife of an innkeeper[9].
The one is chaste, her husband being away : Avisa,
chaste when he is at home, by night and day.[10]
The one through twice ten years strong to endure : Avisa
through scarce as many days could be kept pure.
The one to a hundred lords refused her hand : Avisa
the price and prayers of seven could scarce withstand[11],
The one would spin until her task was done : Avisa
ne'er tired the spinning wheel with what she spun.
The one the Greeks and Romans praise : Avisa
has but one man her name and fame to raise.
Long live Penelope and flourish fair : Avisa
may never with Penelope compare. ] [12]
To the Readers.
HAVING taken upon me (Gentlemen) to pipe with Hiparchion, though my music be not melodious enough to content the proud Thessalians, yet I doubt not but poor shepherds will stir their stumps after my minstrelsy : If the strains be too harsh to delight your stately ears (pardon me and accept my mind, and not my music) I stretch my strings as I can, desiring rather to teach the simple their uniform cinque pace, then effect Courtiers in their lofty galliards, which alter every day with new devices. The cause I have contrived so pithy a matter in so plain a stile, and short verse, is : for that a vain-glorious Avisa[13] (seeking by slander of her superiors, to eternize her folly)[14] is in the like verse, (by an unknown Author) described : I follow (I say) the same stile, & verse, as neither misliking the method, nor the matter, had it been applied to some worthier subject. Thus hoping you will courteously accept my Penelope's Complaint, I will shortly make you amends with her Will, and Testament, in Pentameters, wherein I will stretch my wits to Ela[15], to show my duty, and satisfy your desires. And so farewell.
Peter Colse.
Willobie his AVISA [1596]
At least one copy of Peter Colse's Penelopes Complaint (1596) has survived; of the second issue of Willobie his AVISA (July/August 1596) not one is extant – which makes it seem probable that this popular work was withdrawn from circulation after the Bishop's Ban of 1599. Subsequent issues were published in 1605, 1609 and 1635.
"Hadrian Dorrell" – who is nobody else than "Henry Willobie" or Mathew Roydon – felt compelled to provide these editions with an extensive 'Apology' , dated 1596 in which he denies that AVISA alludes to a real person. (The style of the apology is reminiscent of George Gascoigne's revocation "To The Reverende Divines" in The Poesies of 1576 where he gives out a fictitious Italian as author of The Adventures of Master F. I. and asserts: "I do here protest unto you (reverend) even by the hope of my salvation, that there is no living creature touched or to be noted thereby.") In 1594 the author of the preface thought he may assure with a wink and a nod "This enforceth me to conjecture that though the matter be handled poetically, yet there is something under these feigned names and shows that hath been done truly", but now he swears blue and black that AVISA would merely be an allegory of chastity. And other inconsistencies creep in. In 1594 the author "Henry Willobie" was gone to a foreign country without leaving trace, now he has died unexpectedly. In 1594 he is characterized as a"young man of very good hope", now "Hadrian Dorrell" declares Willobie would have written down the records "thirty and five years" ago.
By contrast, the caviller Peter Colse is given short shrift by "Dorrell": "The author was unknown, not because P. C. could not, but because he would not know him: his true name being open on every page… His poetical fiction P. C. calleth a pamphlet. It is folly for a man to despise that which he cannot mend."
In the appended poem 'The Victory of English Chastity' the voice of the "deceased" author can again be heard, with that difference that he now calls himself not Henry, nuper defuncti '('recently deceased'), but 'Thomas Willoby, 'frater'.
Willobie his AVISA [1596]
Or
The true Picture of a modest Maid, and of a chast and constant wife.
Whereunto is added An Apologie, shewing the true meaning of
Willobie his Avisa : With the victorie
of English Chastitie, never
before printed.
Imprinted at London by John Windet.
[1596]
THE APOLOGY, showing the true meaning of Willobie his Avisa
To a new Edition give me leave to add a new Instruction, for such as I understand, have made of the other, a false and captious construction. If sapiens come a sapore (as some will have it, and that as the Taste judgeth of meats, so wise men judge of natures and intents) I marvel that some men, so greatly affecting the name of wisdom, have by rash judgement, (the badge of folly) showed themselves so much unwise, and without sap. But I see that as it happeneth in the distemperature of the body, so it often fareth in the disorders of the mind : for the body being oppressed with the venomous malice of some predominate humour, the seat of judgment which is the taste, is corrupted: and meats, which of their own nature are wholesome and sweet, seem unto the mouth (ill affected) both bitter, unsavoury, and unwholesome: So the heart being possessed with a vein of vanity, or a spirit of prejudicate opinion, directeth judgement by the line of fancy, not of reason: and the bitterness of his own infected folly, mars the sweet taste of other men's simple and honest meaning. Therefore because some have applied this Poem, as they ought not; I am enforced to speak that which I thought not.
Many branches of errors, have sprouted forth from the root of one fond and misconstrued conceit. The growing of such grafts, I hoped that I had sufficiently prevented in the Preface first printed with this book. But this is the general fault of all rash Readers, when they see a book, they turn either to the middest, or the latter end or at all adventures reading that which at first opening they happen on: if that presently do not fit their fancy, they will suddenly pronounce a definitive sentence of condemnation, both against the matter and the maker; as if by the inspiration of some Pythian Oracle, they were presently brought in possession of the whole sense, meaning and intent of the Author, having read neither the preface, nor perchance six lines of the whole book.
But most I marvel that one P. C. (who seemeth to be a Scholar) hath been carried away with this stream of misconceived folly : For I dare pawn my life, that there is no particular woman in the world, that was either party or privy to any one sentence or word in that book. This poetical fiction was penned by the Author at least for thirty and five years sithence, (as it will be proved) and lay in waste papers in his study, as many other pretty things did, of his devising; and so might have continued still (as his Susanna yet doth) had not I, contrary to his knowledge, with pain collected it; and (in consideration of the good end, to which it was directed) published it. Seeing therefore that I gave the offence, I must satisfy for it, in defending innocents from slanderous tongues. This plain Moral device was plotted only for the repression and opening of Vice; and to the exaltation and triumph of Vertue, as he himself saith.
My sleepy Muse that wakes but now,
To virtues praise hath past her vow.
Virtue therefore being Genus, and Chastity Species, if he should have described it, either in Genere or Specie, as some have done, he might have been as obscure as some others have been. He feigned therefore an Individuum, as it were a particular of this special, the more familiarly to express it, as it were in common talk, as if one did answer another, to delight the reader the more, with variety of folly quenched presently, with the like variety of Virtue. To this feigned Individuum, he gave this feigned name Avisa, which poetical fiction P. C. calleth a pamphlet. It is folly for a man to despise that which he cannot mend. The Author was unknown, not because he could not; but because he would not know him: his true name being open in every Page. He saith: the Author hath registered the meanest. I thought that Chastity had not been the meanest, but rather one of the greatest gifts, that God giveth to men or women. If by the meanest, he mean any other object or subject of Willobie his Muse, then Chastity itself (under the feigned name of A'VISA): it is a meaning of his own making; and a subject of his own suggestion, far from the mind of the first maker. None can eternize their folly in things which they never thought of : but I pray God some other have not eternized their follies, more ways then one. If this feigned name of Avisa mislike any man, for any hidden or private cause to the Author or me unknown, let him call it what he will: So that he understand that it is Chastity itself, not any woman in the world, that is feigned to give these foils to this foul vice.
Therefore, whereas some in their gravity despise it for the lightness, and think it but a fantastical toy, without any reach or secret sense, I will not strive to turn the course of that stream. Yet if my fancy might be admitted a judge in this matter, it would produce a sentence of a far contrary nature. For it seemeth rather to me that the Author intending some rare exploit, endeavoured to describe the doubtful combat, that is daily fought between Vice and Virtue, two princes of great power. And to that end he chose out two of the most approved Captains of both the Campes to try the quarrel. Out of the one he took Luxuriam, Lechery, which as we see, swayeth the minds of the greatest men, and commandeth largely. Out of the other, he opposeth Castitatem, Chastity, a souldier rarely seen (in these days) to resist the enemy's Push, and therefore in one of his verses, is called A Phoenix, or rare-seen bird. The soldiers which he draws forth to fight under the banner of this Captain Lechery, are all estates and degrees, and all Countries and Commonwealths: meaning, that no men, from the highest estate to the lowest; no Countries, from the most civil to the most barbarous, are free from the servile subjection of this raging principality: So that in this part, he describeth the combats, the assaults, the enticements, and allurements, which Noblemen, Gentlemen, and all other loose and unbridled minds, can by money, wealth, pleasure, force, fancy, or any other pathetical passion, procure, or devise, to raze the walls of besieged Chastity. Under whose banner he sendeth forth only one poor woman, of a feigned name (minding to show what the property of good women should be) to resist so many, so mighty, so strong, and subtle enemies, fighting with such forcible weapons of honour, authority, glory, ease and pleasure. Surely, he imagined, that in some women there was yet left so much Chastity, as was able to resist the lewd and devilish temptations of all men whatsoever. And therefore, through the whole book, he attributeth the victory to virtue, and the foil to folly.
And farther, where as in other books, there is found a bare description only, or naming of Vice or virtue, me thinks in reading of this, my conceit tells me that in the person of this woman all the mortal virtues, with one voice are heard pleading, and discoursing at large against vice, in a lively action: In whose words, (if they be considered from the beginning to the end) we may see, how the spirit of God striveth against the Spirit of Satan, by reasons, by Scriptures, and by profane Histories, to lay open the greatness, the foulness, the danger, and deceit of this deadly sin, that rageth so hotly, in the unmortified members of mortal men.
On the other side me thinks I see how the Devil calling together all his company, in hope of a conquest tries all ways and assays all means to effect his desire. But his labour is imagined here to be lost, and that there is some modesty, wisdom, honesty and fear of God remaining yet in some women, sufficient at all times to overcome him. Therefore whosoever accounteth this Poem, but a vain fiction, cutteth the throat of all feminine faith, and robbeth all chaste Ladies of their chiefest honour.
Some others, being much addicted to that sweet bitter sin of Lechery, think their secret practices of bawdry, to be too plainly described, and therefore labour to have it registered for a mere toy. I will not, as a Physician assay with Hellebores, to purge their heads of those humours, least perhaps they be of the men of Abydos, who (as Aristotle reporteth) being mad, took such delight in their madness that they were angry with them that brought them to their wits.
Some others there be, who when they have read this book, have blushed to themselves, finding, as they thought, their very words and writings which they had used in the like attempts. In which is to be noted, the force of a guilty conscience, which fears where no fear is, and flyeth when no man followeth.[16] These fancies (forsooth) have framed names to letters, of their own devices; and they have imagined places of their own placing, so fitly for every description, that they will needs enforce the Author to speak of them, whom he never knew; to aim at their fancies, whose faces he never saw; and to Cypher their names, whose natures to him were ignorant and strange.
Lastly; concerning the famed name of AVISA I have showed the Author's device, and his reason for the fiction, in the first preface, which I thought would have quailed all other fictions whatsoever.
But yet if farther yee will have my conceit, the order, words, and frame of the whole discourse, force me to think that which I am unwilling to say. That this name insinuateth, that there was never such a woman seen, as here is described. For the word A'VISA is compounded, (after the Greek manner) of the privative particle A, which signifieth Non : and of the participle Visus, Visa, Visum, which signifieth, Seen: So that A' visa should signify (by this) as much as Non visa, that is: Such a woman as was never seen. Which if it be true, then A'visa is yet unborn, that must rejoice in this praise. The Author in this book compareth this virtue of Chastity unto a Bird, as is seen in his introduction, saying: Of Virtues Bird, my muse must sing.
For as the Bird by his wings mounteth in the air upwards to heaven: So Chastity, where ever it is, makes the mind to mount from the base and filthy society of earthly conceits, and fits it to fly up to God, in heavenly meditations; whereas lust and wicked pleasures, chain the mind in thraldom of fleshly concupiscence (as Prometheus was tied to the hill Caucasus) which will not suffer the thoughts to ascend by any means. The same Hieroglyphical allusion they meant, that pictured S. John with a Bird sitting by him, to signify, that of all the four Evangelists, he in his Gospel flew highest, and spoke most of the Deity of Christ. Now therefore the Latin word of a Bird being Avis, and the Author (perchance) alluding unto that, did the rather call his victorious mounting victory of Virtue, by the name of Avisa, as alluding to his own allusion. If any man therefore by this, should take occasion to surmise, that the Author meant to note any woman, whose name sounds something like that name, it is too childish and too absurd, and not beseeming any deep judgement, considering there are many things, which cannot be applied to any woman.
But to conclude, thus much, I dare precisely avouch, that the Author intended in this discourse, neither the description or praise of any particular woman; nor the naming or cyphering of any particular man. But in general under a feigned name insinuateth what godly and constant women should do, and say in such lewd temptations. And also, under feigned letters, generally expresseth, what course most of these lawless suitors take, in pursuit of their fancied fooleries, and therefore this P. C. hath offered manifest injury to some, what ever they be, whom his private fancy hath secretly framed in conceit. This is the least that I could say, and the last that ever I will say touching this matter in defence of my friend. If any notwithstanding will continue the error of their unsatisfied minds they must for ever rest in the rightless erring, till the Author (now of late gone to God) return from Heaven to satisfy them farther touching his meaning. And so farewell.
Oxford this 30. of June. 1596.
Thine to use, HADRIAN DORRELL.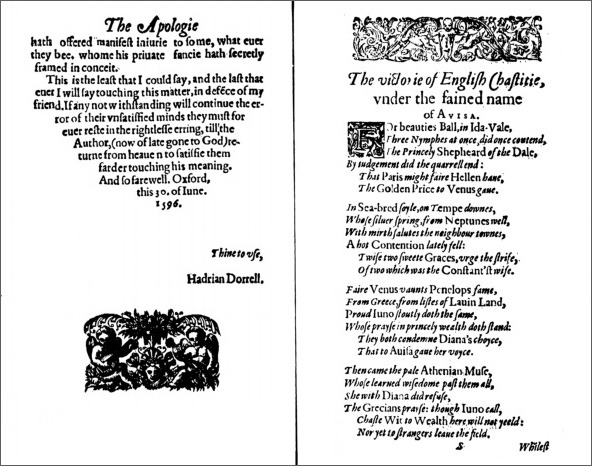 The Victory of English Chastity
under the feigned name of
AVISA
For beauty's Ball, in Ida-Vale,
Three Nymphs at once, did once contend,
The Princely Shepheard of the Dale
By judgement did the quarrel end:
That Paris might fair Helen have,
The Golden Prize to Venus gave.[17]

In Sea-bred soil, on Tempe downs,
Whose silver spring from Neptune's Well,
With mirth salutes the neighbour towns
A hot Contention lately fell:
Twice two sweet Graces urge the strife,
Of two which was the constant'st wife[18].

Fair Venus vaunts Penelop's fame
From Greece, from lists of Lavin Land[19],
Proud Juno stoutly doth the same,
Whose praise in princely wealth doth stand:
They both condemn Diana's choice,
That to Avisa gave her voice.

Then came the pale Athenian Muse,
Whose learned wisdom past them all,
She with Diana did refuse
The Grecians praise: though Juno call,
Chaste Wit to Wealth here will not yield:
Nor yet to strangers leave the field;

Whilst Eris flash'd these fretting flames,
A Noble prince in Rosie [hopeful circumstances] born,
Rogero, right to Angry dames[20],
His flying steed and pace did turn.
Which done they all did straight agree,
That this Rogero Judge should be.

On floury banks this Counsel plast [placed],
From jealous Juno's envious eyes
Long smothered hate flames forth at last
In furious smokes of angry cries:
As though she had the Garland won,
With scoffing terms she thus began.

Stoop Grecian trumps, cease Romans' praise,
Shut up with shame, your famous dames;
Sith we ourselves Base Britain's raise
To over-Top their chiefest fames :
With Noble faith what madness dare,
Such Novel guests and faith compare?

Penelope must now contend
For chaste renown: whose constant heart
Both Greeks and Latins all commend,
With poor Avisa new upstart;
I scorn to speak much in this case,
Her praise's Rival is so base.

Penelope sprang from Noble house,
By Noble match, twice Noble made;
Avisa, both by Sire and spouse,
Was link'd to men of meanest trade :
What fury forc'd Diana's wit,
To match these two so far unfit?

The Grecian dame of princely peers
Twice fifty flatly did deny;
Twice ten years long in doubtful fears,
Could new Avisa so reply ?
And she that is so stout and strong,
Could she have stayed but half so long ?

Fie, leave for shame, thus to commend,
So base a Britain, shall I speak ?
I think these Muses did intend,
To blow a glass that should not break.
Here Venus smiled, and Juno stayed,
Judge now (quoth she) for I have said.

When Pallas heard this ruffling rage,
These toying jests, this false surmise :
She paused which way she might assuage
The flame that thus began to rise;
With settled grace and modest eye,
Thus did she frame her mild reply.[21]

Thou princely Judge here mayst thou see,
What force in Error doth remain,
In Envious Pride what fruits there be
To writhe the paths that lie so plain:
A double darkness drowns the mind,
Whom self-will make so wilful blind.

Can Britain breed no Phoenix bird,
No constant feme in English field?
To Greece, to Rome, is there no third,
Hath Albion none that will not yield?[22]
If this affirm you will not dare,
Then let me Faith with Faith compare.

Let choice respect of Person's slide,
Let Faith and Faith a while contend,
Urge not the Names till cause be tried,
'Tis only Faith that we commend:
We strive not for Avisa's fame,
We reck [heed] not of Avisa's name.

To prove him vain that vainly strives,
That Chastity is nowhere found
In English earth, in British wives,
That all are fickle, all unsound:
We framed a wench, we feign'd a name,
That should confound them all with shame.

To this at first you did consent,
And lent with joy a helping hand,
You both at first were well content,
This feigned frame should firmly stand:
We to Diana gave the maid,
That she might no way be betrayed.

The mounting Phoenix, chaste desire,
This Virtue fram'd to conquer Vice,
This Not-seen Nymph, this heatless fire[23],
This Chaste-found Bird of noble prize,
Was named Avisa by decree,
That Name and nature might agree.

If this Avisa represent
Chaste Virtue in a feigned name,
If Chastity itself be meant,
To be extolled with lasting fame:
Her Greekish gem can Juno dare,
With this Avisa to compare?

Let wise Ulysses' constant mate
Vaunt-noble birth her richest boast,
Yet will her challenge come too late,
When Pride and wealth have done their most:
For this Avisa from above,
Came down whose Sire is mighty Jove.

How can you term her then Obscure,
That shines so bright in every eye?
How is she base that can endure,
So long, so much, and mounts so high?
If she you mean, have no such power,
Tis your Avisa, none of our.

This not seen bird, though rarely found
In proud attire, in gorgeous gowns,
Though she love most the country ground,
And shuns the great and wealthy towns:
Yet if you know a bird so base,
In this Device she hath no place[24].

Was Greekish dame twice ten years chaste,
Did she twice fifty flat deny?
Avisa hath Ten Thousand past,
To thousands daily doth reply: [25]
If your Avisa have a blot
Your own it is, we know her not.

Some greatly doubt your Grecian dame,
Where all be true that Poets feign:
But Chastity who can for shame
Deny she hath, and will remain,
Though women daily do relent,
Yet this Avisa cannot faint.

She quells by Reason filthy lust,
She chokes by Wisdom lewd Desires,
She shuns the bait that Fondling's trust,
From Satan's sleights she quite retires;
Then let Avisa's praise be spread,
When rich and poor, when all are dead.

Let idle, vain, and Fluent flicks
Be cantoned [shared] with eternal shame,
Let blowing buds of blessed twigs,
Let Chaste-Avisa live with fame.
This said, Sweet Pallas takes her rest,
Judge Prince (quoth she) what you think best.

But wise Rogero pausing stayed,
Whose silence seem'd to show some doubt,
Yet this at last he gravely said:
Ye Nymphs that are so fair, so stout,
Sith I your Judge to judge must be,
Accept in worth this short decree.

The question is, where Grecian Ghost
Can stain the stem of Trojan race:
Where Ithac Nymphs may only boast
And British Faith account as base,
Where old Penelop's doubtful fame,
Self Chastity may put to shame?

I count Ulysses happy then,
I deem ourselves as happy now,
His wife denied all other men,
I know them yet that will not bow:
For Chastity I durst compare,
With Greece, with Rome, with who that dare.

Our English earth such Angels breeds,
As can disdain all Foreign praise,
For Learning, Wit, for sober Deeds,
All Europe Dames may learn their ways:
Sith I of both may take my choice,
Out Not-seen Bird shall have my voice.

Sweet Chastity shall have my hand,
In England found, though rarely seen,
Rare Chastity, To this I stand,
Is still as firm, as erst hath been:
While this Avisa, is the she,
This Chaste desire shall Victor be.

Conclusion

The Rose appears in Venus face,
Vermillion dyes pale Juno's cheeks,
They both do blush at this disgrace,
But Juno chief something mislikes,
As though she felt some inward touch,
That for her Greek had spoke so much.

FINIS.

THOMAS WILLOBY Frater
HENRICI WILLOBY nuper defuncti.
---
---